Member
Join Date: Sep 2018
Posts: 1
Mentioned: 0 Post(s)
Tagged: 0 Thread(s)
Quoted: 0 Post(s)
RRC abs
---
Hello, I'm new on here and was wondering if I could pick your expert brains. I've got a 93 RRC lwb. I just replaced the abs pump. Upon ignition it pumped, built pressure and the brakes seemed to work. (Just test fitting, not held them yet) I turned it off. Upon trying again the pump would not come on. I depressurised via pedal pumping, thinking the pump would kick in. Nothing. Disconnected the pump, ran a feed direct. The pump kicked in. Checked for power at the pump (round plug). No power there. The relays click when ignition is turned. But pump fails to kick on. Where do I go from here? The vehicle has been sat for some time. A stuck valve in the abs block could cause this? It worked when first installed and test ran. But suddenly nothing. I hope you guys can point me in the right direction. I'd love to crack on with restoring the old girl. Many thanks in advance.
Senior Member
Join Date: May 2008
Location: Atlanta
Posts: 1,565
Mentioned: 2 Post(s)
Tagged: 0 Thread(s)
Quoted: 178 Post(s)
Senior Member
Join Date: Oct 2015
Location: Transylvania
Posts: 1,299
Mentioned: 2 Post(s)
Tagged: 0 Thread(s)
Quoted: 246 Post(s)
The fact that the relay clicks doesnt give you the certainty that it closes the contact too, if no power at the punp it's something wrong on that circuit, as @
tyl604
suggested make sure that the main fuse MF6 is not blown and if it isn't check the feed on that path as in the diagram attached(no worries the '93's scheme is the same) put new relay to be 100% ruled out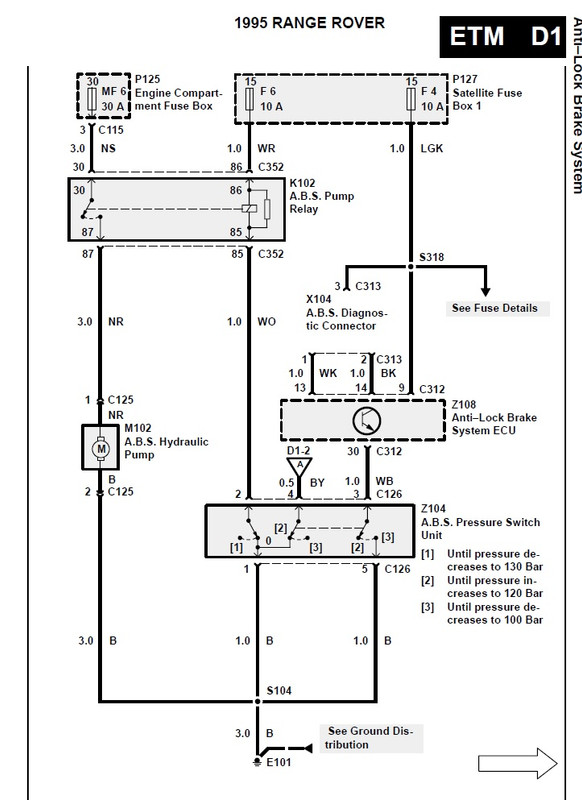 ---
My friends call me Fery

2000 Discovery Td5 ES manual

Hawkeye v.6, Nanocom EVO,
VDM UCANDAS, oscilloscope


if you think my english is peculiar it means you didnt hear my japanese

ALL MY ADVICES ARE BASED ON MY OWN KNOWLEDGE AND MY WAY OF UNDERSTANDING THE DESCRIPTION AND OPERATION OF SYSTEMS... I'M NOT A LAND ROVER TRAINED SPECIALIST JUST AN ADDICTED ENTHUSIAST.
Currently Active Users Viewing This Thread: 1

(0 members and 1 guests)