Discussion Starter
•
#1
•
hey all. for anybody who's thinking about the harbor freight (badlands) universal winch tray => disco discrete winch mount mod... here's another go of it with pictures.
i snagged this warn M8000 on offerup a month or two ago for only $60! comes with original controller plus a bluetooth controller. hooked it up to a car battery and it works great, as well as the clutch.
i dismantled the bull bar (from a nissan hardbody pickup) and was hoping to use the existing winch tray:
turns out the winch tray was bent some:
i had already bought the badlands winch tray, and cutting that down seems like less work than sanding, priming, and painting this rust bucket
for those of you looking for pics removing the front bumper, it's SUPER EASY... except for this bolt tucked up behind the lamp washer reservoir:
i would definitely recommend removing the reservoir, removing that nut with a box wrench took FOREVER.
here's the bumper off:
you can see the passenger upper bumper retainer is pretty bent... from the previous owner and a minor impact. was able to straighten that out too!
here's the cavity where the winch will live:
i decided to keep the splash guard in place, and just trim off the corners here: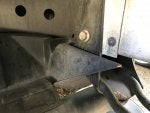 i ended up trimming... trimming... and trimming... effectively removing the entire corner wing in the end:
the badlands tray is 36 and 1/8 long... stupid length. we have almost exactly 24" between frame rails, so take 6" off each end for the supports:
this is what you're left with:
the crush cans and lower crossmember (and driver's side recovery hook) are held on by these two bigass bolts:
i didn't take much time mapping these attachment points... the left and right side are similar with three staggered vias, but they're not symmetrical. shrug.
this box that my new vise came in is exactly as tall as the winch, so i used it for test fitting, because the winch is heavy as **** and the tray is heavy enough by itself:
here are my chopped off 6" lengths test fit as brackets:
here are the brackets mounted with the tray secured. i drilled 1/2" holes and used 3/8" bolts so that i could have a little bit of wiggle room shoring up the bits.
here's the tray mounted in place and the hardware fastened. i was able to completely center the tray and the leading edge (fairlead side) maintains an even distance from the frame from side to side.
here's the winch in the tray. hopefully i'll get it mounted in the next few days and start fitting the control box somewhere under the hood.
i'll probably end up welding the tray and brackets together. i've got to stretch my holes a little bit on the left side as i forgot to accommodate for the recovery hook's 1/8" insert. dammit.