Discussion Starter
·
#1
·
So I bought my alpine white SWB sight unseen from a guy in North Carolina 2 winters ago. He sent me tons of pictures, and described it well (he was the 2nd owner, and it originally lived in Ca and Oregon) there was no rust on it at all, and it was very clean.
The one thing that was neglected info, was that the clear coat was coming off in sheets. I figured I would wet dry sand and buff the base coat and call it a day. This spring I backed into a telephone pole and crunched the tail light corner which subsequently pushed and deformed the rear quarter panel ( ****). Took it to a couple of places, called all my contacts ( that know "guys" who do side jobs) and at the end of the day, got tired of trying to chase an "economical" deal. One thing I haven't mentioned is that I live in eastern long island ( the Hamptons ) and everything out here is double. A glass of wine at a crappy restaurant is $12.
Called Paul Grant, and got two rear quarters for $200. Bought primer, and some utech 200, and figured what the hell. I'm a cabinetmaker, have a shop have sprayed 100's of lacquer, just do it. The pictures below are the two rear quarters primed and ready for install. I'll keep posting photos, but I think I should have it done in the next 2 weeks.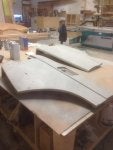 Sent from AutoGuide.com App